About a year and a half ago now I did something really quite evil to my eldest daughter. Now obviously I didn't mean it to be evil, I thought that it was a really good thing and would make for a lovely surprise for her but I didn't exactly count on her reaction…
My eldest daughter is five and for as long as we can remember she has been obsessed with princesses. At first it was 'the pink princess', then it was 'punzel' and a brief Cinderella period proceeded a prolonged Snow White one. There aren't many people with similar aged children in their lives who couldn't guess who she is obsessed with now but I think we can all quite confidently confirm that she doesn't want to build a snowman! Her younger sister at two is a much bigger fan of 'Cars', which she asks for every morning when she gets up, but even she is quite taken with a pretty princess and adores her Sofia costume and is more than happy to be 'my Ana' to her sister's 'queen Elsa'.
I think we all know where this is leading…
As parents we spend most of our time wanting to please our children but we shouldn't forget about ourselves. Flying is a hugely important thing to me, it is part of me I think. When I was growing up I was very lucky to travel abroad on holiday most often twice a year and before starting my own family I was a flight attendant for 10 years working my way up the ranks and travelling extensively to all different parts of the world. I have only flown once now since having children and that was when my eldest daughter was just 3 months old. That is five years ago. It is the longest period in my life that I have not been on board an aircraft for! It feels ridiculous to me that that could even be possible!
My favourite destination - I dreamed of going to New York for as long as I can remember - then I got a job which meant I flew there often!
I think my daughters have the flying gene in their blood too. Recently my eldest talks more and more about her desire to go on an aeroplane while my youngest stops what she is doing to look for an aircraft overhead as soon as she hears any sign. I really wish I could take them. As well as the experience of flying and the adventure of the holiday at the end of it I would love them to see what mummy used to do. I hope that they would behave themselves on the flight though, only now do I understand that fear in the eyes of parents travelling with young children as they board! I'm hoping all that cabin crew training will put me at an advantage…
So back to the evil/nice thing I did for my daughter. Disney on Ice was on at our local arena and I thought she would just love it so I got tickets for us all and new princess costumes for the girls. Then I printed off a picture of all the Disney princesses and characters and decorated it with glitter and wrote it as an invite to the show from the Disney Princesses to my daughters. I was really very pleased with my efforts and set them up in the lounge the weekend of the show as a delivery from the princesses. Of course my then not quite four year old was thrilled to bits to see the costume but it was nothing compared to the glee on her face when she opened the invitation. Unfortunately she wasn't the proficient reader then that she is now:
'We're going to Disney World!' she exclaimed jumping up and down glitter flying everywhere. It was like a scene from one of those Disney adverts where the parents tell the kids of their impending trip in all these weird and wonderful ways. Except not, obviously.
Please could you help make her dreams come true, and therefore mine too, so that the next time I try to announce something in such a way it *is* the big news and we are actually going to the actual Walt Disney World in Florida on an actual aeroplane to see the 'real' princesses. I could do with the parenting points...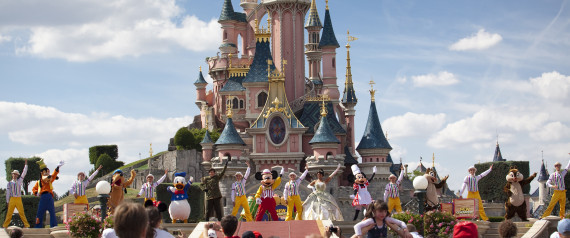 This post is an entry for the #Flying100 Family Holiday Challenge, celebrating how flying allows us to make memories and 'be there', in association with #Flying100. Find out more at http://bit.ly/flying100